NEW CONTEST,
Oct-Nov, 2007
Announced at the Antibes Festival and DEMA Show,
Pascal is planning to launch a new contest with kids (for the next Paris Dive Show in January 2008 and with the Gumbo Limbo Environmental Complex of Boca Raton (Florida, Dec-March 2008), based on: "I'm drawing endangered sea turtles".
To continue…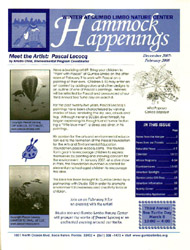 ANTIBES ALPES MARITIME, FESTIVAL MONDIAL DE L'IMAGE SOUS-MARINE. port Vauban,
October 25th – 29th, 2006
Pascal's 14th Personal exhibition at the Underwater Film Festival in Antibes with all new paintings and limited edition prints.
Meeting The Delta Club of young underwater photographers, from Kharkov, Ukraine, for whom Pascal creates in 2005 a logo, Pascal received a Tshirt with his logo